Sign In to Online Banking
Update on the Heartbleed bug.
When we were notified of the Heartbleed bug we immediately took action to review our systems for any potential vulnerability.
At this time, we can confirm our online and mobile banking platforms have not been impacted by the bug.
As always, our priority is to ensure that customer information is safe and secure. We recommend our customers continue to follow prudent security practices, which includes monitoring activity on your accounts regularly and reporting any activity that seems suspicious or that you can't explain. You should always be aware of the potential for phishing scams.
For additional information regarding online security please click here.
Your Security. Our Priority.
BMO Bank of Montreal will never ask you to divulge personal information such as passwords, account numbers or challenge questions and answers by email, telephone or fax. We encourage you to take a moment to learn how to protect your accounts against email fraud, how to report fraudulent emails and read our 100% Online Banking Guarantee.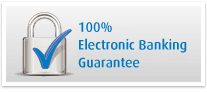 At BMO Bank of Montreal your security is our priority. Our secure sign in process and strong encryption are only the first steps we take to provide you with a safe and secure Online Banking experience.
We will reimburse you 100% for any losses to your Personal Banking accounts resulting from unauthorized transactions through Online Banking.
We will never ask you to provide passwords, account numbers or challenge questions and answers by email, telephone or fax. If you receive an email that you think is fraudulent please report it to us as soon as possible.
We offer a free download of Trusteer Rapport software to help protect you from online fraud and identity theft.
Learn more about how to protect yourself online.